Rigel Medical has supplied medical test equipment to a global charity which delivers healthcare services on-board the world's largest private hospital ship.
The company supplied various biomedical test equipment to aid the humanitarian efforts of the international charity Mercy Ships. Along with the Multi-Flow Infusion analyzer, electrical safety analyzers, patient simulators, an ESU and ventilation analyzers were provided.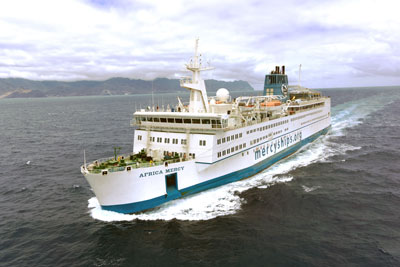 The organization operates a former passenger ship now converted into a hospital with five fully-equipped ORs, a PACU/Recovery Room, an ICU, HDU and surgical wards and is staffed by 400 volunteers from 40 nations.
Rigel Medical's team supplied the device to test the hospital's syringe drivers, which deliver a consistent flow of injected medication, and its volumetric pumps for infusion of fluids.
The four-channel test machine allows manual and automatic testing of up to four pumps, and was included in a test and calibration package needed for on-board medical equipment tests.
Tony Royston, a senior clinical engineer with Mercy Ships, said: "Rigel Medical's products are really important to us because they provide us with automated testing.
"We're staffed by volunteers, which means it's even more important to have a consistent and simple testing facility.
"The Multi-Flow Infusion Tester is proving to be an excellent device both for checking the performance of new devices during our commissioning, and of course for regular PM and post-repair testing of some slightly older units.
"It enables the on-board Biomed department to know that the machines are safe and delivering the correct quantity of narcotic and other drugs without having to arrange return to the OEM.
"Since we operate on the African Continent – currently in Benin, West Africa – equipment return is logistically impractical."
Mercy Ships provides vital healthcare in some of the poorest nations such as Benin, Madagascar and the Republic of Congo.
Jackie Abbott, corporate relations at Mercy Ships, added: "We're hugely grateful for the support that Rigel Medical has given us.
"Every day our volunteer crew on-board have the privilege of transforming the lives of so many people, and that wouldn't be possible without every piece of support we get."
Rigel Medical has a long standing commitment to supporting charitable organizations and overseas healthcare providers. The firm has previously supplied equipment to be used in voluntary missions to Asia and Africa.
Jack Barrett, national business development manager at Rigel Medical, based in Tampa, FL, said: "We're delighted to help the important work of Mercy Ships.
"The team behind Mercy Ships delivers work that is nothing short of incredible, and for Rigel Medical to play a small part in that process is a real honor."
Mercy Ships was founded in 1978 by Don Stephens and has worked in more than 70 countries, providing services valued at more than $1.3 billion treating more than 2.56 million direct beneficiaries.
www.mercyships.org/donate