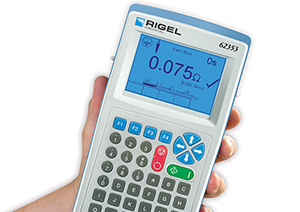 The versatile 62353 hand held electrical medical safety analyser now available from Rigel Medical combines the benefits of an automatic and manual tester with advanced data logging to provide improved asset management capability.
It is the first dedicated IEC 62353 safety analyser offering automatic sequencing, onboard data storage and data entry in a lightweight, easy-to-carry enclosure. Improved battery power provides extended operating life while the instrument's lightweight feature makes it extremely practical and easy-to-transport from site-to-site.
Meeting all the requirements of IEC 62353, the standard for in-service and after repair testing of medical electronic devices, the Rigel 62353 can store up to 10,000 test records, customised routines, visual inspections and performance tests which can be downloaded to and from a PC.
Features include an easy-to-use facility for testing up to two individual Applied Parts from different modules or classes e.g. BF and CF class and either fully automatic, semi automatic or manual testing. A full graphic LCD display has been incorporated with an integral alpha-numeric ABCD keyboard for quick and accurate operation.
The analyser can be connected to Rigel's Med-eBase PC database software to provide enhanced electronic recording and management of testing programmes. Custom test routines can be created for testing specific medical devices before being uploaded to the analyser.
Med-eBase verifies the status of electrical medical equipment in line with IEC 60601-1 and the new IEC62353 in-service safety testing standard. Test results can be stored on a local or remote database depending on the needs of individual biomedical service departments, enabling quick and easy access for service technicians and engineers via PCs.
Visit the Rigel 62353 Hand-held Electrical Safety Analyser product page for more information.