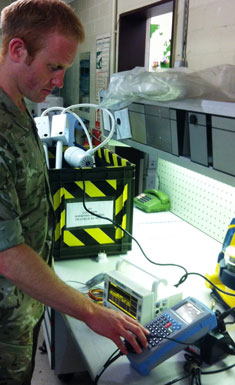 Hundreds of medical devices at the Ministry of Defence's Camp Bastion military hospital in Afghanistan are being checked for electrical safety using testers provided by Rigel Medical.
The equipment, which includes dozens of ECG machines, patient monitors, defibrillators, CT scanners, power chargers and electrically operated beds, are regularly tested as part of an in service maintenance programme for safety using the Rigel Medical 288 field service kit.
Using the portable analysers, the team of military medical, dental and veterinary (MDSS) technicians are able to quickly and accurately undertake electrical safety tests on devices used at the hospital as well as those returning from Forward Operating Bases located throughout southern Afghanistan.
The testers are also used to check the electrical safety of medical fridges at Camp Bastion used to store emergency blood and plasma supplies.
The Rigel 288 is the industry's leading and smallest automatic safety analyser and provides fast and accurate testing of patient, enclosure and earth leakage as well earth continuity and insulation resistance. The compact design offers improved portability and ease-of-use for the technicians undertaking the tests.
After testing, the analyser indicates pass/fail and prints out a bar-coded label, which can be attached to the tested device providing a clear indication of electrical safety. The information collected and stored by the tester is downloaded to a PC database, which provides enhanced electronic recording and management of medical device safety testing programmes.
This can be used for reports detailing the equipment tested, when the inspections were carried out and which items passed or failed. A certificate, which can be displayed advising that the appliances at the hospital have been properly tested for electrical safety, can also be provided.
Staff Sergeant Mark Rothwell, who provides project and in service support for the MDSS technicians, said the Rigel 288 is an extremely reliable tester, capable of withstanding the harsh conditions of the Afghanistan climate.
"Clearly, it is important to have a robust analyser which can operate effectively in one of the most intense, hot and dusty environments in the world, ensuring that electrical equipment won't fail and is safe for use by both patients and medical staff.
"I'm also impressed by how lightweight the 288 is. This makes it extremely easy for the technicians at Camp Bastion to carry around and deploy where and when required."
The 288 used in Afghanistan forms part of a field service kit provided by Rigel Medical to offer an accurate solution for testing devices for electrical safety to appropriate standards including IEC 62353 IEC/EN60601-1, VDE 0751-1, AS/NZS 3551, AAMI, NFPA-99, MDA DB 9801-2006.
A compact Bluetooth barcode scanner enables devices and equipment to be quickly and easily identified, while test results can be stored within the Rigel 288 safety analyser and printed wirelessly to the rugged battery operated printer.
Traceability is improved as information can be downloaded into Med-eBase – the easy-to-use asset management software. This enables the user to store and manage test results, email html test certificates to clients and schedule new work orders, which can then be fully uploaded into a large onboard memory.
The compact, lightweight design and long life battery power of the Rigel 288 reduces downtime between tests, making the instrument practical and highly portable for multi-site use. It features easy-to-follow menu driven instructions for ease of operation and test control of all required electrical safety tests in manual, semi automatic or fully automatic test modes.
Users also have the facility to select from a range of preset test programs or develop their own customised routines.
A large internal memory facilitates the storage of test results for safety audit and traceability purposes. In addition, as well as storing the results of electrical tests, there is also the ability to record user defined inspections and measurements from other equipment such as SpO2, NIBP, ECG and other electro medical patient equipment.
The kit comes in a hard wearing, impact and water resistant Pelican carry case featuring dedicated foam inserts to safely hold the instrumentation in place and provide optimum protection during transportation.
Read more about the Rigel 288 electrical safety analyzer.