We are proud to continue our support of Mercy Ships, a global charity delivering healthcare services on-board the world's largest hospital ship, by supplying important biomedical test equipment.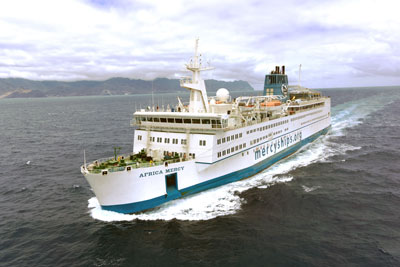 Mercy Ships delivers free medical care to some of the world's poorest countries via a former passenger ship which has been converted into a hospital with five operating rooms, an intensive care unit and 80 ward beds.
The Africa Mercy has just returned from a 10-month field service to Cameroon – and is scheduled to arrive in Conakry, Guinea in August for its next service.
The ship is fitted out with equipment to test the hospital's syringe drivers, which deliver a consistent flow of injected medication, and its volumetric pumps for infusion of fluids.
The testers, Rigel's Multi-Flo Infusion Pump Analysers, provide an essential service on board as they ensure patients are administered the correct doses at all times. Without them, patients are put at serious risk of receiving the wrong levels of medication – which can be fatal.
Rigel also provided a suite of essential testing devices, including a 288+ Electrical Safety Analyser, a portable tester designed to perform routine tests on medical electrical equipment, and a UniPulse defibrillator analyser which ensures defibrillators are working correctly.
Jackie Abbott, corporate relations at Mercy Ships, said: "We're extremely grateful for the support that Rigel Medical has given us
"Our trip to Cameroon was our biggest venture yet and it wouldn't have been possible without partners like Rigel."
Jack Barrett, national business development manager at Rigel Medical, said: "We're delighted to continue helping Mercy Ships carry out its important work.
"The work the team accomplishes is simply incredible and it's a real honor to be able to contribute to the mission in such a vital way."