Introducing the new Uni-Therm electrosurgical analyser from Rigel Medical.
The innovative features and testing capabilities of the Rigel Uni-Therm make this all-in-one device invaluable, with contact quality monitoring (CQM) analysis, high current power measurement and HF leakage.
It is the ultimate device to reduce the complexity of ESU testing.
Packed with innovative features
High current power measurement

Test all leading modern and legacy electrosurgical devices (ESU), with a maximum test current of 8A RMS for calibration of high current vessel sealing modes.

High resolution, low induction load bank

With accurate high resolution and the lowest possible induction load bank, the Uni-Therm offers an all-in-one solution for reliable power distribution measurements, without the need for external loads. Suitable for all ESU devices, the load bank ranges from 0-5115Ω, in 5Ω increments, to represent various tissue types.

Simple user interface with detailed
colour screen

Cut testing times by following the easy navigation and step-by-step, on-screen colour instructions and connection diagrams - including the simplification of leakage and power measurement test protocols.

Integrated automatic test protocol

Significantly reduce and simplify testing without the need for a PC or laptop connection. The Uni-Therm can also automate the activation of the ESU pedal or hand switch, from coag to cut, without the need to manually change resistors to simulate different tissue types.

Contact quality monitoring (CQM) analysis

An all-in-one solution with built-in analysis to test all contact quality monitoring systems in modern and legacy ESU devices. Simulate a fault to within 1Ω resolution.

Small in size

With a footprint that's 50% smaller than competitors, the Uni-Therm ensures testing can be done even when physical space is at a minimum; making it easier to use, transport and store.

Meet the standards

Conducts all high frequency leakage tests, as per IEC 60601-2-2 requirements.
See full technical specification

Work smarter with Med-eBase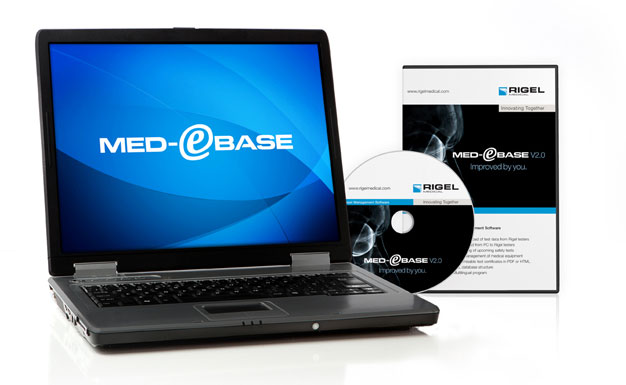 Rigel's software solution, Med-eBase, allows you to manage your assets the way you want to.

Med-eBase allows you to:
Download test results
Manage data
Schedule work orders easily
Configure test equipment
Analyse data trends
Customise test certificates
See full technical specification

Med-eBase is sold separately.
FREE full introduction to electrosurgery

An Introduction to Electrosurgery

This free guidance booklet from Rigel Medical covers the principles of electrosurgery, including:

A summary of the meaning of electrosurgery
Techniques used to deliver the electrical currents
The waveforms used in electrosurgery
The tissue effects which result from a variation in waveform
Hazards and complications of using electrical current in surgery
Analysing electrosurgical generators