Rigel Donates Safety Testers To Support Uganda Charity Initiative
26th September 2011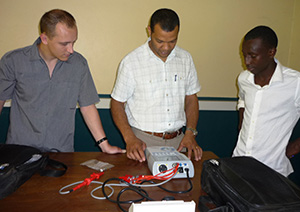 Rigel Medical has donated five of its 266 Plus electrical safety testers to a UK-based charity which supplies and maintains medical equipment to developing countries in Africa.
The lightweight and compact instruments have been provided to the Amalthea Trust, which will be giving them to a medical engineering workshop currently being brought up to standard at the Mulago Hospital in Kampala, Uganda.
There, they will be used to test the safety of a variety of electrically powered devices including x-ray machines, ECGs and blood pressure units, ensuring that they are safe to use in the treatment of hundreds of patients who come to the hospital from all over the country.
The Trust also helps provide for the sustainable maintenance of medical equipment through the provision of training programmes for local people. In Kampala, it is presently in the process of setting up a course in biomedical engineering at Kyambugo University, which has created a lot of interest.
The testers will be used to train those taking the course and equip them with the skills required to understand the importance of electrical safety testing and how to service and maintain medical equipment properly.
Mike Hilditch, managing director of the Hilditch Group, which specialises in the sale of medical devices and is a Rigel customer, is a trustee of the Amalthea Trust.
He said: "We're very appreciative of Rigel's donation and would like to thank them for their generosity.
"It's vital that companies like Rigel are able to support the work of the charity which does such an important job in improving the standards of healthcare provision in Uganda and other developing countries."
Andy Cross, Rigel's business development manager UK, said: "We're delighted to be able to support such a worthy cause and wish the project well.
"In places like Uganda, where the electricity supply can be unreliable, it's important to have the latest electrical testing equipment to ensure that hospital medical equipment works properly and is safe for use by staff and patients."
The Rigel 266 Plus has been designed for engineers requiring portable test equipment and multi-testing capabilities. It offers dual functionality in either manual or semi automatic mode for medical safety testing requirements while test routines can be selected via a large rotary switch and dedicated soft pad keys, which allow the user to quickly and easily select individual single fault conditions.
Other features include the selection of leakage measurement sequences without requiring a power break to provide a fast test solution for medical equipment subject to power-up / down delay times. The regrouping of single fault conditions in the semi automatic mode reduces the number of required power breaks by up to 80%, thus saving even more time.